Do you own a car you wish to get rid of? Is it too damaged or too old to drive? Thinking of selling it but not sure where or how? You should contact Kiwi Cash for Cars on 021 837 591. Now!
Kiwi Cash for Cars are the most reliable car wreckers in Christchurch. We offer a swift and hassle-free transaction to all our customers.
When you contact Kiwi Cash for Cars you will get a Free over the phone quote for your vehicle. You will be asked a few of questions about your car, and based on the description you give us, we will give you a quote for how much we will purchase your unwanted vehicle from you.
If you are happy with our quote, we will arrange for Free car removal at a time that suits you and from anywhere within Christchurch and surrounding areas.
All you have to do is pick up the phone and dial 021 837 591. NOW.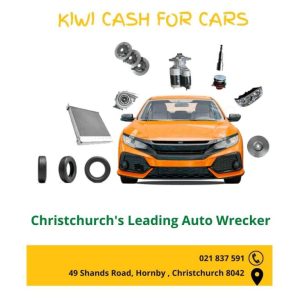 Kiss your unwanted vehicle Goodbye, and get cash in hand
We pay up to $8,999 CASH for damaged, old, used or scrap vehicles. We will buy your vehicle from you no matter what state its in. However, prices will vary according to what parts are still workable in the vehicle (if any), and the weight of the recyclable metals your vehicle possesses.
For example, smaller cars, such as hatchbacks, are worth from $200 all the up to $5000, while sedans will get you $300-$7999. Whereas heavier vehicles, such as trucks and SUVs, are worth between $500 all the way up to $8999 or more. If your vehicle has parts which still work and can be resold, your vehicle may be worth even more.
Looking for used auto parts?
We store all type of vehicles in our warehouse which is approximately 4,000sqm, It can be Toyota, Honda, Lexus, Nissan you name it we have it. We will offer you used spare parts for your car at cheapest rate and all our parts are checked for quality and assurance before sold to our customers.
We sell car parts that includes, Used Batteries, car components such as doors, bonnet, interior and more. Why not give us a call today and we'll provide you used quality auto parts for your car instantly.
Call Kiwi Cash for Cars Today
When you sell your vehicle to Kiwi Cash for Cars, you won't be left wondering whether you could have gotten a better deal someplace else. Most vehicles that end up at the wreckers have very few or no working parts left in them. such vehicles are worth very little on the market- if anything. This is because such vehicles are of little use to used car buyers. The only real value that is left in these vehicles is in the metal it possesses.
Don't wait any longer
The longer your vehicle is left sitting there not being used the more it will deteriorate. The more the condition of your vehicle declines, the value of the vehicle will decrease with it.  Any parts which may still be working will cease to work overtime and will therefore no longer have any value. Call Kiwi Cash for Cars today and maximise on your return.
Kiwi Cash for Cars is the number one dependable car removal and cash for cars company in Christchurch. Our staff are qualified and experienced at providing you with an ideal solution to getting rid of your unwanted or damaged car.
We offer services such as:
Cash for Scrap Cars
Old car Removal Christchurch
Car Wreckers
Unwanted Car Wrecker
Damaged Car Wrecker
Towing Unwanted Cars
Sell your Car for Cash
Car Recycling
Don't hesitate any longer, call Kiwi Cash for Cars now on 021 837 591., and get cash in your hand for your unwanted vehicle.